WELCOME TO BRIAN KEWLEY ART
Brian Kewley is a well-known Australian artist who, over 50 years, has produced a great deal of original Australian paintings for sale, and also many paintings of various countries around the world. His original art is painted in both oils and gouache watercolours.
When he was eighteen, Brian took the train to the Dandenong Ranges, out of Melbourne, with some paints and a sketchbook and, for the first time, painted three or four landscapes. That night, he had a strange experience – while asleep, he was shown, as on a screen, painting after painting that he would do in the future. He had the same experience the next night, and he knew that that was what he was meant to do during his lifetime. Since then, he has always painted, and it has given him great pleasure.
Brian has had 28 solo exhibitions in Australia, mostly in Melbourne, but also in Sydney, Adelaide, Brisbane and Canberra. In December 2006, his paintings of Malta and Gozo were exhibited at the Palazzo Parisio in Valletta, the capital of Malta. He is represented in the National Gallery of Victoria and the State Gallery of Queensland, and in the Reserve Bank of Australia collection, Artbank, and many corporate and private collections in Australia and overseas, and he has won a number of awards.
He has painted many Australian beach paintings, particularly in Port Phillip Bay and Westernport Bay in Victoria. Some of these works are reproduced in a book of his paintings entitled Bays and Beaches (Macmillan, 2007). Other Australian coastal paintings depict scenes as far afield as Cooktown in Far North Queensland, the Kimberley coast in Western Australia, and Flinders Island in Bass Strait.
As an Australian painter, he has had a number of camping trips to the Australian outback with a geologist friend, and he loves painting the infinite distances.
Brian has also travelled extensively overseas, and his paintings for sale depict many of the places in the world that he has visited – Yorkshire and Scotland, Norway, Paris and St Petersburg and Venice, Libya, Morocco and Namibia in Africa, Santorini, Corsica and Malta in the Mediterranean, Bhutan and China, Bali and other islands in the Pacific, the lakes and mountains of New Zealand, and the blue and white expanse of the Antarctic.
Brian also enjoys painting abstracts where he seeks harmonies of colours and shapes.
He lives with his wife, Gretchen, on their eight-acre property in the hills above Flinders on the beautiful Mornington Peninsula south of Melbourne where he has his studio and where he has painted many local landscapes and seascapes. They have a small vineyard, one of the first planted in the area now renowned for its quality wines, and Brian makes wine each year for his family and friends to enjoy.
Brian's lively colourful paintings are available for sale in a wide range of sizes, and prices range from $250 to $3500.
Brian Kewley…delights in the romantic virtues of spontaneity, immediacy and joyfulness.
Patrick McCaughey
Kewley is a natural painter. His approach to life is direct, his colour joyous and radiant.' … 'Brian Kewley's painting of Cooktown reveals that he has a capacity for catching the feeling of a place and expressing it with visual clarity and in true painterly terms.
Bernard Smith
The visual impact is sustained with an immediacy and vigour that comes from a natural painter's enthusiasm.
Ronald Millar
Awards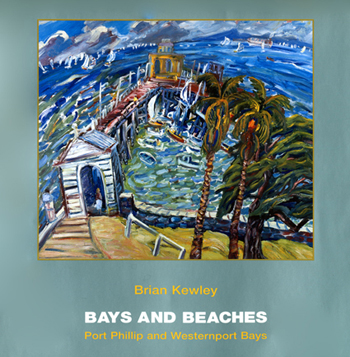 Bays and Beaches (Macmillan, 2007) reproduces more than 100 works of the favourite places Brian has painted there over the years.
'In all these bays and beaches paintings,
I tried to capture the light, the movement and the dazzle.'
To purchase Bays and Beaches, please email Brian Kewley. Price $40 + p & h.
See Book Review by Robyn Lewis, VisitVineyards