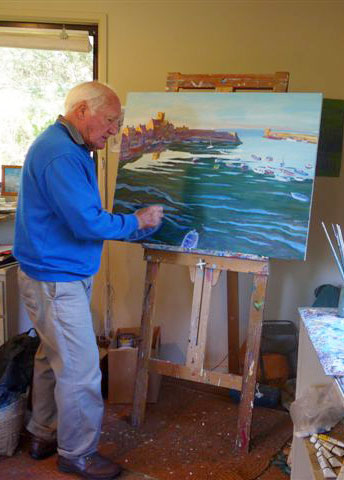 Brian Kewley
Australian artist, Brian Kewley, paints outdoors as well as in his studio. Many of his larger landscapes and seascapes are based on his smaller outdoor paintings, or are painted from memory, often with an aerial perspective.
In his studio, he usually paints with oils on primed canvas, but sometimes he uses enamel on hardboard. For his many works on paper, he uses gouache watercolours, sometimes with Indian ink. Some works are just pen and wash.
With so many years of experience, he paints rapidly when he is painting outdoors. In his studio, he tends to paint in creative bursts, sometimes completing a painting quickly, but usually over a longer period.
Sometimes, in his studio, Brian sketches a painting in with acrylics first, and then overpaints with oils. He usually paints with classical music playing in the background.
When he is travelling – in Australia or overseas – he paints in gouache, using a sketchpad, as the gouache dries rapidly and can be overpainted. On his return home, he often bases larger works, in oils, on the smaller gouaches.
The paintings are signed and dated only when he is quite satisfied with the end result. Each painting for sale is unique – no copies are made.
Parallel with his career as an Australian artist, Brian Kewley has had a successful career as a lawyer.